Have you ever been stumped in finding the right words to search for? Back when I was planning my wedding, I had a list of wedding songs in mind, but the problem was that I couldn't remember any of the artist names or song titles. So I started typing into the Google search box parts of the lyrics that I did remember -- and like magic, I saw suggestions with the artist name and song titles that I wanted! (I was opted-in to the keyword suggestions Google Labs experiment at the time). At that moment, I was so proud to be working on Google Suggest, a search feature that provides real-time suggestions while you search.Today we're excited because Google Suggest will be "graduating" from Labs and available by default on the Google.com homepage. Over the next week, we'll be rolling this out so that more and more of you will start seeing a list of query suggestions when you start typing into the search box.


We find that by providing suggestions upfront, we can help people search more efficiently and conveniently. Below are some great ways Google Suggest can help simplify your searching.
Help formulate queries: Instead of just typing [hotels in washington] - did you want [hotels in washington dc] or [hotels in washington state]? Don't remember that song title or person's name? Let Google help you search (and yes, I ended up choosing "From This Moment" as our wedding song).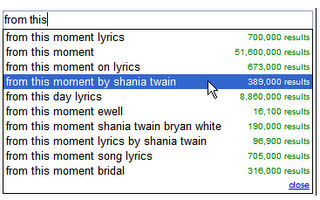 Reduce spelling errors: Since suggestions are spell-corrected using the same "Did you mean?" feature that offers alternative spellings for your query after you search, misspellings and typos can be corrected ahead of time. Instead of wasting your time with a misspelled query like [new yrok times] or [tomorow never dies], search the first time with the correctly-spelled query.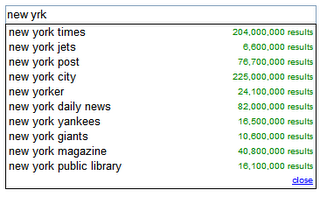 Saves keystrokes: Who wants to spend their time typing [san francisco chronicle] when you can just type in "san f..." and choose the suggestion right away?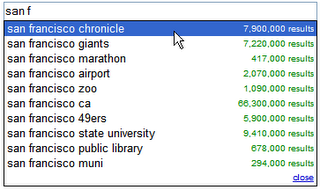 The Google Suggest feature originally started as a 20% project in 2004, and has since expanded to Google Labs, Toolbar, Firefox search box, Maps and Web Search for select countries, the iPhone and BlackBerry, YouTube, and now Google.com. Special thanks to my teammates Miki Herscovici (Tech Lead) and the rest of the engineering team in Haifa for their hard work in making this happen.

So what are you waiting for? Give it a try. Start typing in a query on Google.com to see Google Suggest in action!

Update: Corrected team mention.

Jennifer Liu, Product Manager
googleblog.blogspot.com
published @ September 1, 2008