Your millions of online votes helped us pick the winners of this year's Doodle 4 Google competition. Today, we're pleased to announce the results.Congratulations to Makenzie Melton, a third grader at El Dorado Springs R-2 Schools in El Dorado Springs, Missouri. Her winning design, entitled "Rainforest Habitat," expressed her concern that "the rainforest is in danger and it is not fair to the plants and animals." Makenzie's design triumphed over more than 33,000 student submissions from all over the country. Makenzie's colored-pencil creation beautifully embodied this year's theme.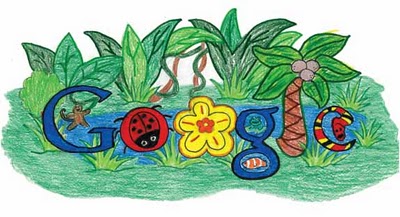 Makenzie received a $15,000 college scholarship, a netbook computer and a $25,000 technology grant for a new computer lab at her school. Her doodle will also be featured on the Google.com homepage tomorrow, May 27, for millions of people to enjoy all across the country.
Our congratulations also go out to other three national finalists. They were selected as having the best doodle in their grade groups by the online public vote, and each student will receive a netbook computer:
Grades 4-6
Raymundo Marquez, Grade 6, of Nellie Mae Glass Elementary, Eagle Pass, Texas for his doodle entitled "Save Our Rainforest." The background of Raymundo's work depicts deforestation and the effects it can have on our land. He says, "we will eventually have less oxygen and clean air. We need to unite to protect not just our lives, but the lives of all the rare and beautiful plants and animals that live there."
Grades 7-9
Vance Viggiano, Grade 7, Heritage Home School Academy, Long Valley, New Jersey, for his doodle entitled "The Love of Art." Vance says, "If I could do anything, I would... enrich the world with an intense passion for art and the everlasting joy it provides. Art embodies the creator's expression, and offers exquisite exuberance towards both the artist and the viewers, also serving to soothe an ailing soul in distress."
Grades 10-12
Bevan Schiffli, Grade 11, Highlands School, Highlands, North Carolina, for her doodle entitled "Branch Out." Bevan says, "My doodle expresses my desire to understand other views and cultures. I want to branch out to gain a strong sense of the world; not only in one perspective, but many. My wish is to show people my experiences through a pursuit of art/design in my future career."
Our four winners were announced at an event today at the Google New York office and were celebrated at the Smithsonian's Cooper-Hewitt, National Design Museum, where we also unveiled an exhibit of the 40 regional winners that will be on view until August 15, 2010. The finalists were treated to a day in New York City, including doodle classes with our doodle team and the opportunity to meet some of this year's expert jurors who helped judge this year's final doodles around the theme "If I Could Do Anything, I Would..." Judges at today's event were well known artists and animators from Disney, the Charles M. Schulz Creative Associates and Peanuts gang, Barbie/Matell and the Sesame Street Workshop.
A special thanks to all those who voted and helped us select this year's winner. Thank you to all those creative kids out there who submitted entries — and the teachers and principals who work so hard to get their students recognized. We hope you'll doodle with us next year!
Marissa Mayer, VP, Search Products and User Experience
googleblog.blogspot.com
published @ May 26, 2010