This is one of a regular series of posts on search experience updates. Look for the label This week in search and subscribe to the series. - Ed.From the latest blockbuster films to your favorite TV shows, we recently launched some useful enhancements when you're searching for media. And if you're looking to remember where to go on your next vacation, we've also got you covered.


Here are some of our recent updates:
Director and cast links in movie search results
Have you ever searched for a movie and then wondered who directed or starred in it? This week, we made this process one step faster. Now, you'll see information about the director and starring cast of movies in search results, along with other information like ratings and links to relevant content. The result also gives you the opportunity to click through to a site to get more info about a person with just one click.




This feature is currently available in English and Japanese. Over time, we'll roll this change out in more languages.
New results for TV episodes
As more TV networks begin publishing their shows on sites like fox.com, we've noticed that people often turn to Google to find their favorites, whether old episodes of Lost or the latest episode of Glee. Today we're making it easier than ever to find your favorite television shows by episode or season right on google.com. With our new feature, when you search for a television show, you'll sometimes see a new section in the search results page called "Episodes for" with videos of the three newest programs we can find. We hope these changes make it easier to find your favorite television shows online, whether to catch up on last night's episode or to kill some time with an old favorite season.
Example search: [glee] or [family guy]
Stars extended to places in local results
In March we introduced stars in search so that you could mark results and rediscover them later. This week we extended the feature to local results, so now you can star places and get to them later—through a search, on Google Maps or on your phone. For example, if you're planning a trip to Tucson, you might want to go to the Arizona-Sonora Desert Museum—so you would star the result from your desktop computer. When you arrive in Arizona, you can access the starred item again from the Local tab of google.com using your phone browser or in the Google Maps for mobile application. Since you're signed in with the same account on your desktop computer and phone, the starred items sync automatically. Phone number, address and directions information are just a few clicks away.
Example search: [tucson museum]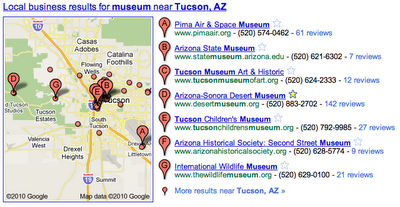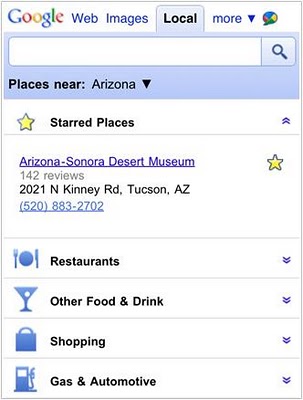 This week in search... queries
What are people searching for on Google? We recently introduced a series of videos about U.S. search trends. Check out this week's the Google Beat, for the latest glimpse into the pulse of Google searches.
We hope you find these new updates and enhancements useful. Stay tuned for more next week!
Johanna Wright, Director of Search Product Management
googleblog.blogspot.com
published @ September 18, 2010