(Cross-posted from the YouTube Blog)We've always been committed to providing you the tools to have the best possible YouTube experience. Educating parents, teens, and families on how to stay safe on our site is a critical part of that commitment, so we can't think of a more appropriate place to introduce our new Abuse and Safety Center than at the Family Online Safety Institute (FOSI) conference in Washington, D.C., today.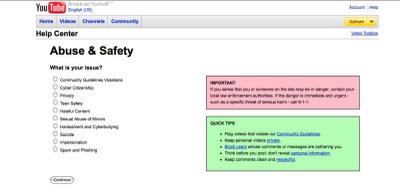 The center features straightforward safety tips and multimedia resources from experts and prominent safety organizations. We are empowering people with the information and tools they need to help them deal with issues like cyberbullying, online harassment, and hateful content.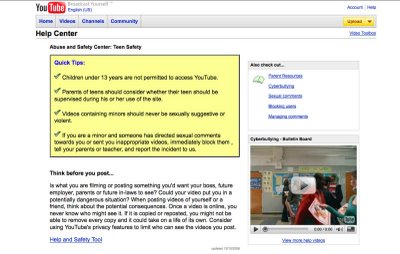 The new center also makes it easier for you to find our Help and Safety Tool, which lets you report concerns to us and gives you granular control over your channel, like the option of blocking comments from specific users or disabling the video comments feature on specific videos.
The Abuse and Safety Center is easy to find. Just look at the bottom of any YouTube page and click on the link titled "Abuse and Safety Center." From phishing scams to just learning what it means to be a good YouTube citizen, you'll find the information you need.
Finally, check out FOSI's meeting page for more information about our presence at the conference, where Shantal Rands from Google's legal team will receive a FOSI Award for Outstanding Achievement in advancing the goal of a safer Internet. Plus, Andrew McLaughlin, Google's Director of Global Policy & Government Affairs, is speaking about "Protecting Kids and Free Speech Online," and YouTube's Policy Analyst Micah Schaffer will address online safety in social media.
We'll continue to add new information and features to the center, so check back often.
The YouTube Team
googleblog.blogspot.com
published @ December 11, 2008