Posted by Marissa Mayer, VP Search Products & User ExperienceLate one night in the summer of 2000, I found myself answering user support emails in response to two new features we had just released, Advanced Search and Preferences (at the time catchily called "Language, Display, and Filtering Options" :)). Busy crafting answers about how to set Safesearch or change the number of results offered by default, I worked my way through the email queue. And then I saw it: The next email had just a number ("37") in the subject - and no message text. What a weird form of spam, I thought. Why would anyone be motivated to just send a number? I searched for the user's email address to see what else had been sent. Interesting. Lots of numbers: 33, 53, and then a clue: "61, getting a bit heavy, aren't we?" Furthermore, the date on each of the messages seemed very familiar. Then I realized that's because the dates were all days that I had launched various changes on the homepage. "Getting a bit heavy?" - that one did correspond to one of the wordiest homepage releases we had ever done. Could the sender be counting words? Sure enough, I looked back, counted the words myself, and he was - a manual, human version of a scale for the Google homepage. He was weighing our homepage and letting us know when it was getting too heavy. One of his earliest mails had a note in the body: "What happened to the days of 13?" - referring to the word count on the initial 1999 homepage.


This mystery and its revelation was really interesting because I thought about the homepage, and how to keep it simple, all the time. Yet I hadn't thought to look at it through this very simple lens: just count the words. The fewer, the better. Ever since that night, this has been our discipline, and everyone who works on the homepage and its design knows the current number: 28. (That's the word count for the basic page if you are signed out, there's no promotional line running beneath the search box, you've set Google as your homepage and thus don't get the "Make Google Your Homepage!" link, and you count "©2008 Google" as two words.)
So, today we're making a homepage change by adding a link to our privacy overview and policies. Google values our users' privacy first and foremost. Trust is the basis of everything we do, so we want you to be familiar and comfortable with the integrity and care we give your personal data. We added this link both to our homepage and to our results page to make it easier for you to find information about our privacy principles. The new "Privacy" link goes to our Privacy Center, which was revamped earlier this year to be more straightforward and approachable, with videos and a non-legalese overview to make sure you understand in basic terms what Google does, does not, will, and won't, do in regard to your personal information.
How does privacy relate to homepage word count? Larry and Sergey told me we could only add this to the homepage if we took a word away - keeping the "weight" of the homepage unchanged at 28. Given that the new Privacy link fit best with legal disclaimers on the page, I looked to the copyright line. There, we dropped the word "Google" (realizing it was implied, obviously) and added the new privacy link alongside it.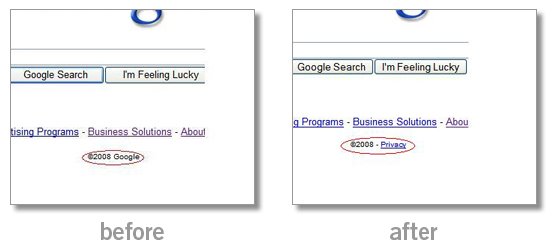 We think the easy access to our privacy information without any added homepage heft is a clear win for our users and an enhancement to your experience. You can check out the new Privacy Center here.
googleblog.blogspot.com
published @ September 1, 2008