As we continue to refine our search algorithms to deliver more relevant results, we strive to be as open as possible about how we use data to improve your search experience. Today, we're rolling out a new feature in Google Web Search that will help you better understand how your search results are already customized. Over the next few days, you may start to see messages like this in the upper right corner of your search results page (click on the image to view larger):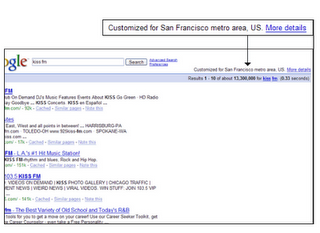 You can click the "More details" link to get to a page like this: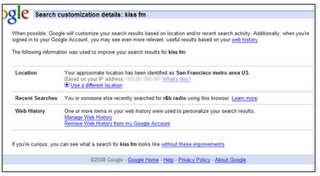 You'll see these new messages whenever your search results have been customized based on one or more of the following types of information:
Location. By default, we identify your approximate city location based on your computer's IP address and use it to customize your search results. If you'd like Google to use a different location, you can sign into or create a Google Account and provide a city or street address. Your specific location will be used not only for customizing search results, but also to improve your experience in Google Maps and other Google products.
Recent searches. We take into account whether a particular query followed on the heels of another query. Because recent search activity provides such valuable context for understanding the meaning behind your searches, we use it to customize your results whenever possible, regardless of whether you're signed in or signed out. In order to customize your results and show you the customization details, we keep the most recent query on your browser for a limited time. After that, the information is removed from your browser and disappears immediately if you close your browser.
Web History. If you're signed in and have Web History enabled, we customize your search results based on what you've searched for in the past on Google, and what web sites you've visited. One important note about Web History: it belongs to you and you have complete control over it. You can remove specific items or pause the service at any time. And if there's a particular search that you'd rather not have personalized based on your Web History, you can also just temporarily sign out of your Google Account.
This new feature doesn't change anything at all about how you search on Google and the results you get; it just gives you more of a behind-the-scenes look at how we customize your search experience. We consider this to be an important step in our commitment to transparency, and we hope you find it informative and useful.
Rachel Garb, Product Manager
googleblog.blogspot.com
published @ September 1, 2008