Today, Barack Obama was sworn in as the 44th president of the United States of America. As we observed throughout the presidential campaign, many people in the U.S. turned to Google Search to find information. During the inauguration, top queries included live inauguration coverage, inauguration day 2009 streaming, listen to inauguration live, and many others.However, interest in the inauguration was not only confined to the United States. Twelve percent of inauguration-related queries came from outside the United States as thousands worldwide used Google to find ways to watch the event. From Latin America, we received queries like toma de posesion de Barack Obama en vivo (inauguration of Barack Obama live -- Spanish) and posse de Obama (inauguration of Obama -- Portuguese). Similarly in Europe, the Middle East, and Africa, people interested in the inauguration searched for amtseinfhrung (inauguration -- German), inauguratie (inauguration -- Dutch), investidura (inauguration -- Spanish), (Barack introduction -- Hebrew), (Obama -- Arabic), and investiture (inauguration -- French). And even though it was very early in their day, users in Asia and Australia were still interested in watching the festivities, with queries like (Obama inauguration broadcast -- Chinese) and inauguration timetable.


While President Obama was certainly the central player in today's events, searchers were also interested in the other people who took part in the ceremony. In particular, people wanted more information on the religious leaders who spoke: Dr. Rick Warren, who gave the invocation, and Reverend Dr. Joseph E. Lowery, who gave the benediction. Additionally, there was a lot of interest in some of the artists who performed: Aretha Franklin, Elizabeth Alexander, and Yo-Yo Ma. They also sought to know more about Senator Dianne Feinstein, who presided over the ceremony as chair of the Joint Congressional Committee on Inaugural Ceremonies, and Supreme Court Chief Justice John G. Roberts, Jr., who swore in President Obama. (Click on the images to see a larger version.)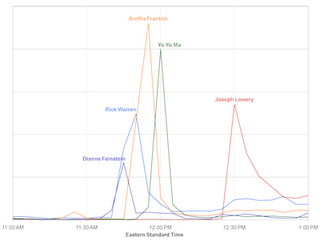 During the last nine years, the growth of the Internet has changed the way the world seeks information. From President Bush's first inaugural address in 2001 to his second in 2005, the number of inauguration-related searches increased by more than a factor of ten. From 2005 to today's address, the number grew even more. Few of the 2001 queries requested "video," and none requested streaming. By 2005, a few queries such as inauguration audio and streaming video of inauguration appeared. Today, technology has become so prevalant that queries such as YouTube live inauguration, live blogging inauguration, inaugural podcast, and Obama inaugural speech mp3 formed one-third of all inauguration-related queries.
Finally, this graph demonstrates one other interesting search pattern that we saw: the overall query volume of Google searches dropped in the U.S. from the time President Obama took the oath of office until the end of his inaugural speech, demonstrating that all eyes were on today's festivities.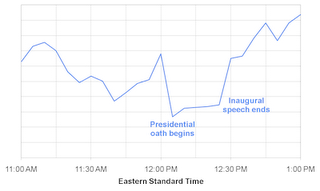 Jeffrey Oldham, Software Engineer, and Fred Leach, Quantitative Marketing Manager
googleblog.blogspot.com
published @ January 21, 2009