When I was a history major at Haverford College, I spent countless hours with old documents at Magill Library. It was one of the best parts of the Haverford experience—studying and researching with a great collection of musty works. Little did I or any other student know at the time that as we worked, we sat a few feet away from an international mystery involving none other than Ren Descartes.It reads like a historical thriller. In 1641 the French philosopher penned a letter about one of his forthcoming works, a correspondence that found a home in the collections of the Institut de France. Nearly two centuries later, the Italian mathematician Count Guglielmo Libri thieved thousands of letters and documents from the Institut before fleeing to England, where he sold his stolen goods to collectors and booksellers—at least one of which found its way into the hands of Charles Roberts, a document collector and Haverford alum (Class of 1864).


More than 100 years ago, Roberts's widow bequeathed her late husband's collection to his alma mater, and these works have been the basis for ongoing scholarship ever since. For years, few people knew of the existence—or origins—of the Descartes letter held in Haverford's archives until a few months ago when a Google search led a Dutch scholar to uncover this missing treasure.
After Haverford's president Steve Emerson learned of the "long-lost and extremely valuable" document's discovery, he contacted his counterpart at the Institut de France, and today, after nearly 170 years, this mystery reaches its conclusion. Haverford has returned the missing letter to its original home, and a representative from Google France will be joining the formal repatriation ceremony at the Institut in Paris.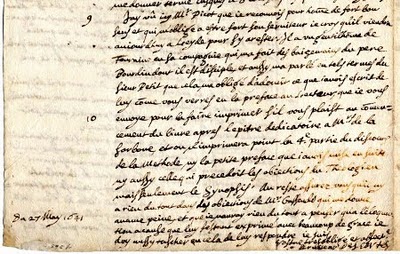 Excerpt of the letter written by Rene Descartes in 1641. SOURCE: Haverford College
Search isn't a solved problem, but it certainly helps solve problems—whether you're looking for something as simple as the library hours of a small liberal arts school outside Philadelphia or trying to uncover a long-lost letter in the archives. Makes me wonder what mystery might be uncovered next.
John Saroff, Strategic Partnership Development Manager, Google TV Ads
googleblog.blogspot.com
published @ June 8, 2010