Last weekend, Spain won the 2010 World Cup. For the month leading up to the final, Googlers joined the world in cheering for their favorite teams. Around our campus, games were watched on computer screens and on cafe video screens. Code went unwritten. Emails went unanswered.Throughout the world, real life also slowed during World Cup matches. Which teams had the most loyal fans? Which game captured the attention of world the most? To answer these questions, we looked at counts of queries using Google. People search using Google day and night—except for football fans when a game is on.


These graphs show the volume of Google queries for some of the World Cup matches: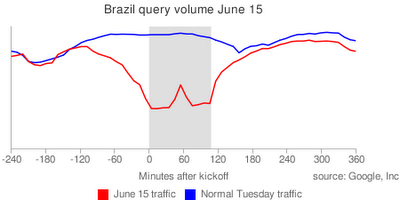 On June 15, as Brazil played its first game against North Korea, the volume of queries from Brazil, shown using a red line, plummeted when the match began, spiked during halftime, fell again and then quickly rose after the match finished.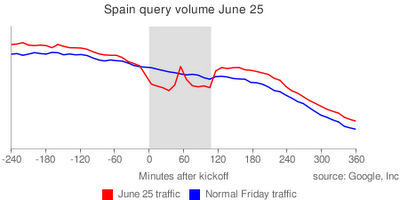 Queries from Spain during its June 25 game against Chile also decreased during the game, except during halftime. After some post-game querying, Spaniards went to sleep and queries dropped again.
To measure which country has the most loyal fans, we computed the proportional drop in queries during each of its team's matches compared with normal query volume. Brazil topped the charts with queries from that country dropping by half during its football games. Football powerhouse and third-place winner Germany came in second, followed by the Netherlands and South Korea.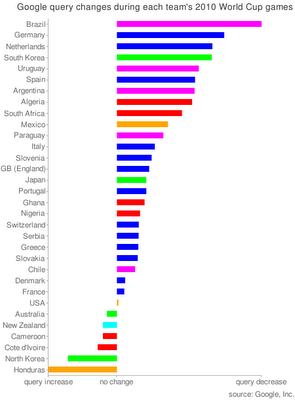 In fourth place, South Koreans were remarkably loyal even though some games began at 3:30am Seoul time. Japan, Australia and New Zealand, also affected by time-zone differences, expressed much less interest. A few countries searched more, not less. But only Honduras and North Korea increased significantly.
During the knockout rounds, each match's losing team is eliminated from the tournament. As fewer and fewer teams remain, we expected increased worldwide interest in each remaining game. Unsurprisingly, worldwide queries slowed the most during the final game between the Netherlands and Spain, but the round-of-16 Germany v. England game had the second largest query decrease. Semi-finals and quarter-finals were all popular except for semi-final Uruguay v. Netherlands, during which queries actually increased.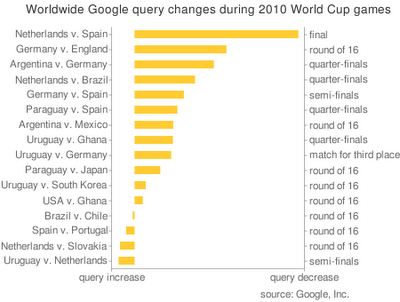 In Latin American countries, search volume dropped more steeply leading into and out of matches while, in Europe, searches ramped down and up more gradually. Of course, for games that went into extra time and penalty shootouts the drops deepened the longer the match went on, including Paraguay v. Japan, Netherlands v. Spain, and Uruguay v. Ghana as seen here: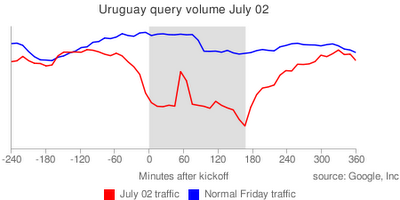 Finally, no blog post about the World Cup would be complete without a look at what did drive people to search—after the final match, of course. Although he won neither the Golden Boot (for the most World Cup goals) nor the Golden Ball (for best player) last weekend, Spain's David Villa is winning in search compared to the recipients of those two honors—Germany's Thomas Mller and Uruguay's Diego Forln—and Dutch midfielder Wesley Sneijder. All of these men competed for the Golden Boot with five goals apiece.
Similar to when Carlos Puyol headed in the single goal that put Spain in the final, people flocked to the web to search for information on Andres Iniesta, the "quiet man" who scored the one goal that led his country to its first World Cup championships. They were also interested in Dani Jarque, a Spanish footballer who died last fall and whose name was emblazoned on Iniesta's undershirt, which he displayed after his goal. And after the match, searches for keeper Iker Casillas skyrocketed to a higher peak than any other popular footballer—including household names like Ronaldo, Villa and Messi—reached during the Cup. Sometimes, it seems, goalies get the last word.
We hope you enjoyed our series of posts on World Cup search trends and we'll see you in Brazil in 2014!
Jeffrey D. Oldham, Software Engineer and Robert Snedegar, Technical Solutions Engineer
googleblog.blogspot.com
published @ July 16, 2010