This is one of a regular series of posts on search experience updates. Look for the label This week in search and subscribe to the series. - Ed.It's the time of year when many of us begin our holiday shopping in earnest. Whether you're more into "Black Friday" or "Cyber Monday," many of us increasingly turn to the Internet and search engines to find the best prices, product reviews, gift guides and recommendations. This week, we made a number of improvements that should help make it easier than ever to find gifts for friends and family (or yourself!) from reputable merchants, whether you're out on your phone looking for a store, searching at home for an online merchant, or looking for a friend to get a recommendation.


Place Search on mobile
In October, we introduced Place Search, which helps you find local information by organizing websites around real world places. As you've probably experienced, local information is particularly useful when you're out and about and have only your phone to rely on. That's why we've worked to quickly bring Place Search to your mobile phone. Now when you search for [museums new york city] on your phone, you'll see the web result for Metropolitan Museum of Art along with comments and reviews about the place—all nicely organized in one cluster of information. If you want to call the museum or get directions, both are just one button click away.

More protection from disreputable merchants
Last Sunday, the New York Times reported that a particular online merchant had deliberately abused customers in an attempt to increase his ranking on Google and other search engines. We immediately convened a team to look carefully at the issue. Our initial analysis pointed to this being an edge case and not a widespread problem, but nonetheless we developed an algorithmic solution and have already implemented it. The change currently impacts hundreds of merchants detected to provide an extremely poor user experience. You shouldn't notice any significant differences in your search results, except now you're even less likely to find these undesirable sites. You can learn more about this change and the thinking behind it in our blog post from Wednesday.
Social sitelinks
Usually when you search for a social site like Twitter or MySpace, you're looking for information from your friends and social network, like their tweets and profile pages. This week we added new social sitelinks to search results, giving you more direct access to content from your friends. A social sitelink includes your friend's name and profile photo, and it links to her content on a particular website. Social sitelinks are based on the same technology as Google Social Search; we use your social circle to identify relevant websites and user pages.
To see social sitelinks in action, try a search for [twitter] or [youtube]. If you're not seeing social sitelinks, try creating a Google profile and adding links in your profile to other online social sites you belong to so we can build your social circle.


NBA Live Results
We've offered sports scores in search results for a long time, but recently we've been working with partners to make sure you can always find the latest information. Last month hockey fans started finding live results from the NHL.com, and this week we've added basketball. With the season already underway, we worked with NBA.com to provide real-time game scores, schedules and standings information as part of NBA.com search results on Google. These results also include links for quick access to game previews, ongoing live updates, and game recaps to make sure you don't miss out on the latest NBA action.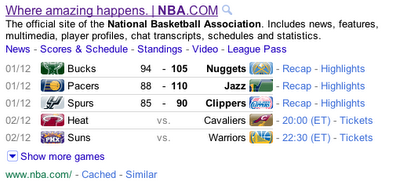 Example searches: [nba], [cavaliers]
The Google Beat
We're back this week with another edition of the Google Beat. Check out this week's video to see what people were searching for this Thanksgiving, on Cyber Monday and beyond.
Mike Cassidy, Director of Product Management
googleblog.blogspot.com
published @ December 4, 2010