A few months ago we launched several new features for Google Toolbar in Internet Explorer. Since then, we've received many emails asking us when we plan to support all our new features in Firefox.Guess what: Starting today, you can download the latest version of Google Toolbar for Firefox, available in 29 languages. This new version is the first Toolbar launched out of our St. Petersburg, Russia office. It includes all the Toolbar features you know and love, such as Search, Bookmarks and Translate. When you install it, you can try out some of our newest features.


We don't like to play favorites among Toolbar's features, but it's hard not be wowed by Autofill. You can create several profiles with personal or business information including different addresses, email addresses and credit card details. So anytime you want to fill an online form, just click on Autofill and the right information will appear in the form automatically. All your information is safely stored only in your own computer, with your credit card numbers encrypted and protected by a password.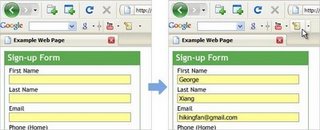 We also love Google Gadgets in Toolbar. Gadgets bring information from your favorite websites closer to you. For example, you can add the YouTube gadget to your Toolbar. When you want to have a quick break from work, click on the YouTube icon and search or view videos in a box that pops down from the Toolbar, without leaving the web page you are on. Close that box when you're done with it (or when your manager starts walking towards your cube). You can find the YouTube gadget and thousands of others in our gallery.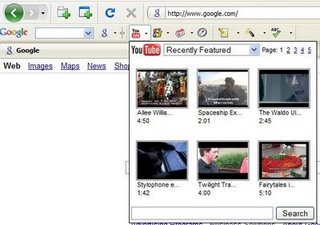 We look forward to get your feedback, or to hear your stories about the exciting ways you are using Toolbar's features. We hope that you enjoy the new Google Toolbar as much as our team enjoyed building it!
If you're nterested in learning more about Google Toolbar, visit us at http://tools.google.com/firefox/toolbar/FT5 or check out our video:
Vladislav Kaznacheev, Head, St Petersburg Engineering Office, and Igor Bazarny, Software Engineer, Toolbar team
googleblog.blogspot.com
published @ September 27, 2008