This is one of a regular series of posts on search experience updates. Look for the label This week in search and subscribe to the series. - Ed.Searches come in many flavors, but it's our job to determine what type of search you're doing once you've clicked your way out of the search box. Whether you're looking for a blog or a business, our goal is to get you the most relevant type of result back to you—fast. Ultimately, it's that combination of relevance and speed that we think will give you the best experience. Here are some of our newest search enhancements:


Improved Blog Search
With the proliferation of specialized blogs all across the web, you'll often find great content on blogs—whether you're planning a trip to Florida, looking to bring home a new golden retriever or learning how to make a delicious Italian dinner. Recently, our blog search team made it much easier to find full blogs about your query, rather than single posts on the topic. This is especially useful if you're looking for bloggers that post on an ongoing basis about the subject of your query. Try it with one of your search queries by clicking "Blogs," then "Homepages," in the left-hand panel of your search results.
Example searches: [tesla car], [google], [android]
A new home for Realtime Search
When we think about relevancy, often what you're looking for may have just happened. It's been more than nine months since we first announced our real-time search features, and this week we gave it a new home at www.google.com/realtime as well as some great new tools to you refine and understand your results. You can use geographic refinements to find updates and news that's happening right near you or in the area of your choice. We also added conversations view, so you can follow a discussion more easily by browsing a full timeline of tweets and seeing how the conversation evolved. And in Google Alerts, you can now create an alert specifically for "updates" to get an email the moment a topic of interest shows up on Twitter or other short-form services.
Realtime Search and updates in Google Alerts are available globally in 40 languages, and the geographic refinements and conversations views are available in English, Japanese, Russian and Spanish.
Example search: [egg recall]
More local results in maps and clickable markers
We made some changes to local results in web search that will help you learn more about the results and save you time by saving you clicks. Starting this week, when you search for places we'll show you all of the results that match your query on the map. Results after the first seven will be shown with small circle markers. This can be very useful in identifying the density of stores and helping you find the right neighborhood to visit. For example, when you search for [fabric stores nyc], you can now easily identify the Garment District: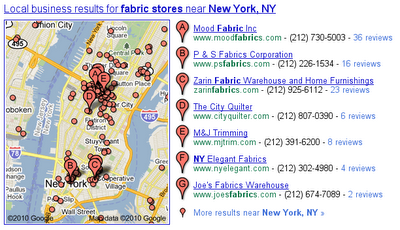 When you see a result on the map that you like, you can now click directly on the marker (the pin or the circle) and go to Google Maps with that place selected and the "Info" window open. The other results will still be there if you want to explore more places.
Example searches: [fabric stores nyc], [coffee in seattle], [resort near ko samui, thailand]
We hope you find these updates useful. Stay tuned for more in the coming weeks.
Johanna Wright, Director, Search Product Management
googleblog.blogspot.com
published @ August 28, 2010