This is part of a regular series of posts on search experience updates that runs on Fridays. Look for the label "This week in search" and subscribe to the series. - Ed.One of the things we think about often are new and better ways to interact with the search engine—whether it's refining results on the fly, speaking your search terms, or typing your search into the address bar. This week, we've improved several ways in which you interact with Google, including a more precise way to zoom back in time in Realtime, Instant search results (and webpages) in Chrome, new warning labels to catch your eye on the results page and information delivered to you in audio format in Translate.


Instant on Chrome
Google Instant continues to expand to new languages, domains and devices. This week, you can use Google Instant right in your Chrome Omnibox with our latest beta release. Instant on Chrome takes the power of Instant to the next level, letting you get not only instant search results, but also instant web pages. If Google is your default search engine and Instant is enabled on Chrome, your browser will immediately begin loading either a webpage or search results as you type. Now that's fast.
"Top updates" and other improvements to Realtime
Just over a year ago we introduced Realtime Search, which for the first time brought the search results page to life with a dynamic stream of real-time content. Realtime Search has been steadily improving, and this week we added a new "Top updates" section on the right-hand side of the Realtime results page, making it easy to see some of the most interesting tweets related for your search. We've also updated the user interface for the replay feature, making it easier to go back in time with very precise time intervals that appear as you hover your cursor over the timeline. Finally, for those who are watching closely, we've also renamed the "Updates" mode in the left-hand panel on our main search results page to "Realtime" to make our feature names more consistent.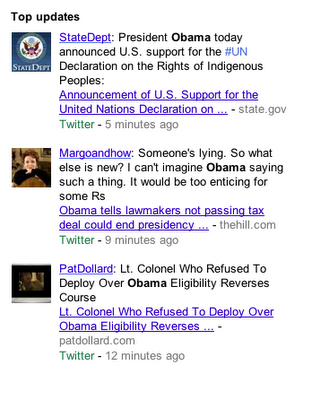 Top updates now appear on the right-hand side of the Realtime results page
Hacked sites notifications
We've added new notifications to the results page to warn you when sites may have been compromised, spammed or defaced. We use a variety of automated tools to detect common signs of hacking as quickly as possible, and if we detect any of these we add a new notice right beneath the result title line, "This site may be compromised." In addition to protecting users, these notices will also help webmasters more quickly discover when someone is abusing their sites. You can learn more in our Help Center article and our webmaster blog post. Here's what it looks like:


No, Matt's site hasn't been hacked—for illustrative purposes only!
Improvements to Google Translate
We develop automatic translation tools because we want to help people find information, no matter what language they speak. This week we made three distinct improvements to Translate. First, we added the ability to see alternative translations, which can help you understand the true intended meaning of the phrase, and provide another kind of feedback for us to improve our translation systems. We also added virtual keyboards, because it can be extremely difficult to type some of the 57 languages supported by Google Translate on a standard QWERTY keyboard. Finally, we added speech synthesis for three more languages and dramatically improved another 17, so you can not only see text translations, but actually hear them spoken aloud.

With alternative translations, you can click to see different possible translations for the same word.
This week in searches
After our special edition of the Google Beat last week for our annual Zeitgeist, we're back with the final Google Beat of the year. Check out the video to find out which celebrities, football stadiums and Senate bills were popular this week.
During the next couple weeks many of us on the search team will be taking a much needed break after averybusyyear. While we'll certainly spend some of our time off daydreaming about how we can make search more interactive in 2011, we plan to enjoy our time interacting with friends and family around the dinner table, the fireplace, the ski slope—or wherever the holiday season takes us.
Until next year, happy holidays!
Mike Cassidy, Director of Product Management
googleblog.blogspot.com
published @ December 18, 2010