This is one of a regular series of posts on search experience updates. Look for the label This week in search and subscribe to the series. - Ed.This week was another busy one at Google. In addition to announcing Chrome OS devices, the Nexus S and Google eBooks, on the search team we've been wrapping up some projects before the holidays. This week we've been thinking globally, with our 2010 Google Zeitgeist cataloging the events and searches that defined the year in each of more than 50 countries. We've also been working to expand our products to new domains, languages, content types and even reading levels.


Zeitgeist 2010, the spirit of the times
The 2010 Google Zeitgeist is global, with lists of top searches for more than 50 countries. We've gathered the most popular and fastest rising queries from the year to capture the spirit of 2010. This year we've added interactive HTML5 data visualizations for the top searches and events from around the world, and for the first time, we created a Zeitgeist Year in Review Video to relive the moments that shaped 2010.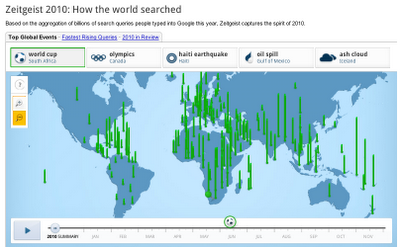 Google Instant for mobile now available around the world
We want to bring Instant everywhere: to every device, every domain, every language and every Google search box. This week we previewed Google Instant on Chrome, and released a beta version of Google Instant on mobile in more than 28 languages and 40 countries worldwide. If you have an Android 2.2+ and iOS4 device, just go to google.com in your mobile browser and you will be redirected to your local domain. Tap the Google Instant link beneath the search box to turn it on.

Search results at every reading level
We work every day to make information available to everyone on the web. This week we made it easier for to you pinpoint exactly the information you need with a new advanced search feature that categorizes results by reading level. For example, if you're writing a college paper on [herbivores] you can refine to see only advanced material, or if you're a grade school teacher preparing for a class on [herbivores] you can refine to see only basic material. To try it out, click "advanced search" to the right of the search box and click in the new reading level section. You can filter to see only results that are basic, intermediate or advanced, and annotate results with reading levels. If you choose to annotate results, on the results page you'll see a graphical distribution of the pages classified in different categories for your search.


Image indexing improvements
We're constantly working to improve our crawling and indexing systems to help people find the most recent information on the web, whether it's a blog, a video or an image. The biggest change this year was Caffeine, which made search results 50% fresher on average. More recently, we made some changes to increase the rate at which we update images in our index. These improvements will help people find fresher images in both web and image search.
Johanna Wright, Director of Product Management
googleblog.blogspot.com
published @ December 11, 2010