This is part of a regular series of posts on search experience updates that runs on Fridays. Look for the label "This week in search" and subscribe to the series. - Ed.With features like Instant, the dynamic left-hand panel of tools, voice search and Google Goggles, search is becoming more interactive all the time. You don't just type and query and hit enter: you can speak your search query, and whether typing or speaking, you can search in a kind of conversation, with the results and search tools updating dynamically based on just a few characters. This week's changes all continue to make Google more interactive and responsive to your intentions, whether you're looking for a vector graphic file for a presentation, getting Google Instant results or looking for a fun distraction in the middle of the workday.


Instant satellite and terrain maps on Google results
We love the satellite and terrain views you can get in Google Earth and Maps, but shouldn't you be able to get those views right away on the results page without having to click through to Maps and then click the "satellite" or "terrain" option? Well now, when you're looking for these specialized map views, you'll get them instantly on your main results page. For example, if you search for [honolulu satellite map], you'll see the city's lush green interior and deep blue ocean right in your search results. Click the map to jump directly to a larger view.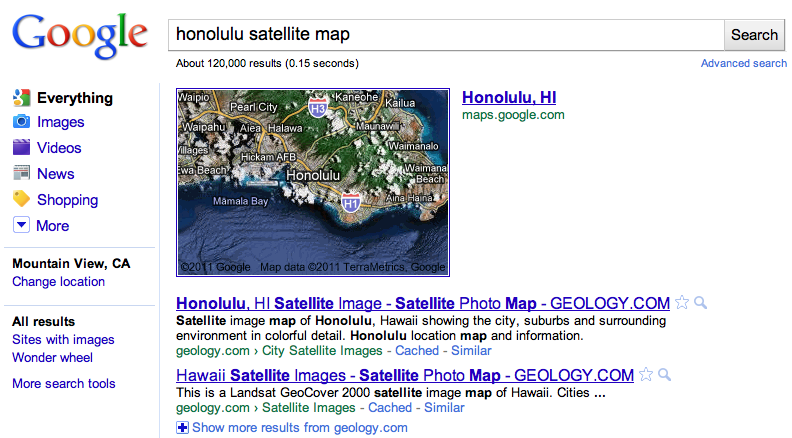 Example searches: [satellite map of moscow], [yosemite terrain map]
New ways to find Scalable Vector Graphic (SVG) files
Scalable Vector Graphics (SVGs) are files that describe how to draw the basic elements needed to create an image: elements like lines, circles, polygons and more complex shapes. Unlike the images typically returned by most search engines (for example, JPG, GIF and PNG), SVGs can be stretched to any size without the quality of the image suffering. This makes them ideally suited for things like clip art, maps, logos, flags and scientific diagrams. In December, we announced we were starting to return SVGs in our results; more recently, we made it possible to refine your search to exclusively return SVGs. Click "Images" in the left-hand panel, then "Advanced Search" and then select the SVG filetype. If you want to impress your friends, you can also add "filetype:svg" to any normal search, such as [graph theory filetype:svg]: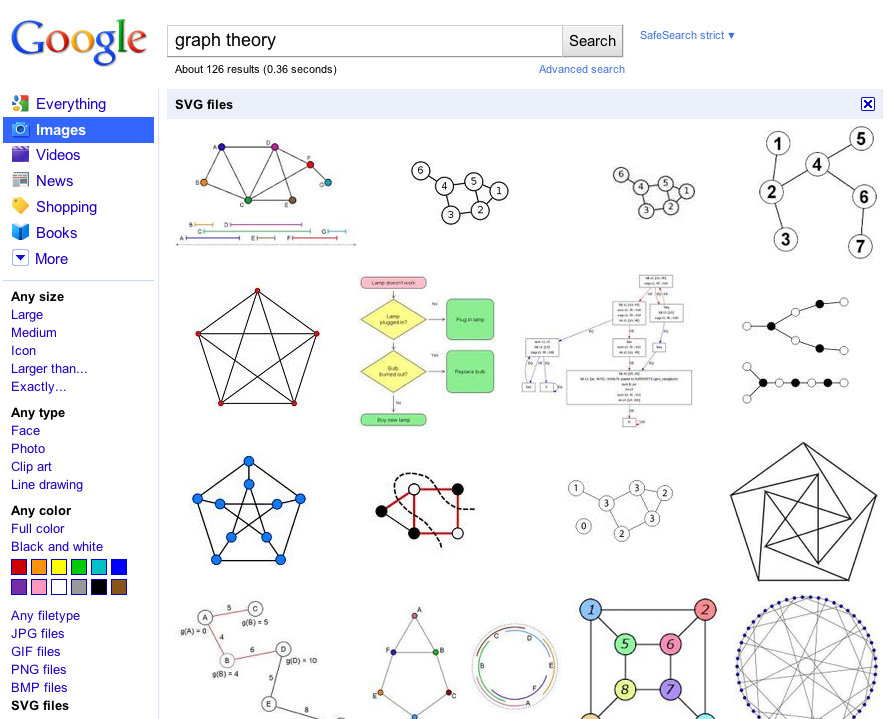 Example searches: [world map filetype:svg], [flag filetype:svg]
Chrome Instant ready for prime time
If you haven't yet tried Instant on Chrome, now is a great time to check it out. Instant on Chrome arrived in the stable build last Thursday, which means it's ready for prime time. Chrome brings the Instant experience to a whole new level—not just search results, but also webpages begin loading as soon as you start typing. To try it out, download the latest release and enable Instant in the "Basics" tab of Chrome's options.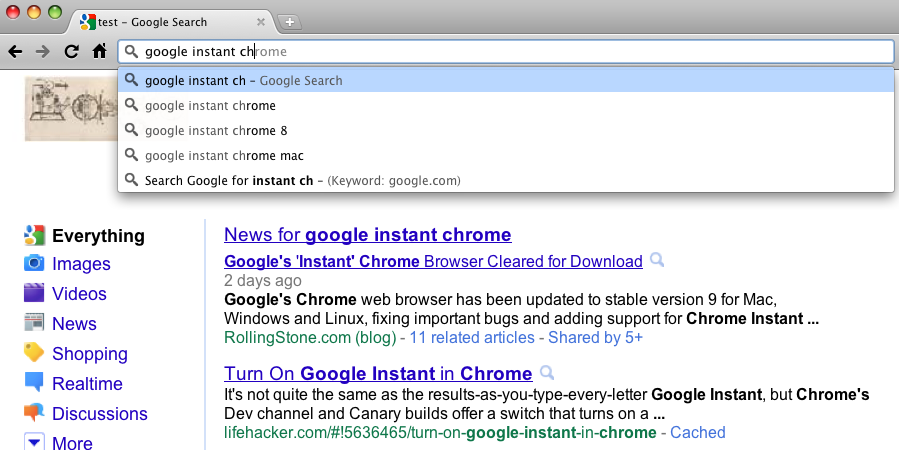 Celebrating Jules Verne's birthday by diving into the depths
We've been having fun with some unique and interactive doodles lately, and this week was no exception. On Monday visitors to Google were invited to navigate the Nautilus and dive down into the depths. Pull the lever or tilt your computer (side note: who knew my laptop had an accelerometer?) and the Nautilus will follow. If you missed the doodle, you can still play with the underlying graphic in full view and HD!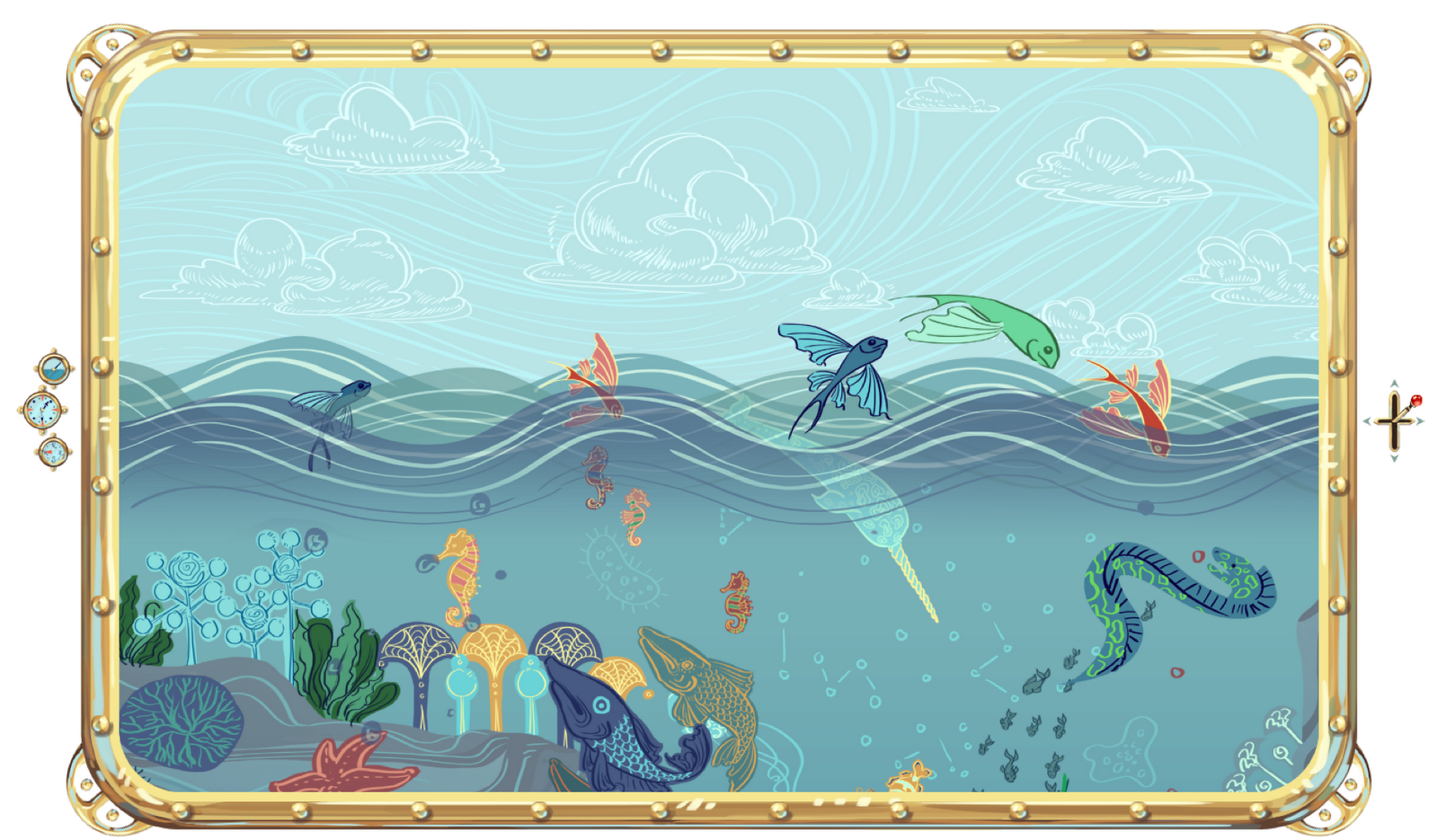 It turns out you can do a lot of wild things on Google...you can talk to it and, sometimes, you can play games right on our homepage—but at the end of the day, the most important thing you can do is find the best answer to your question.
Amit Singhal, Google Fellow
googleblog.blogspot.com
published @ February 12, 2011