This is part of a regular series of posts on search experience updates that runs on Fridays. Look for the label "This week in search" and subscribe to the series. - Ed.
This week we made a few updates to help people around the world access relevant information. We introduced a new +1 button to help you and your friends find the right results at the right time, enhanced financial search results on your mobile phone, added local domains in new countries and introduced Voice Search in new languages.


+1 to share your recommendations with the world
The +1 button is a new, quick way in Google search to say "this is something you should check out." Click the +1 button to publicly give a search result or an ad your stamp of approval, sharing your recommendation with your friends and contacts so they'll find it right when they want it. For example, if you recently stayed at a ski lodge that you loved, you can +1 that webpage and your friend will see your +1 when it matters most to him—when he's searching for a place to stay in Lake Tahoe.

+1's are slowing rolling out alongside search results and ads in English on Google.com, and in the future they'll appear in many more places (including other Google products and sites across the web). You can try the +1 button now by opting in at http://www.google.com/experimental.
New financial search results on mobile
When you're checking on the latest in the stock market, you may be interested in seeing more than just stock quotes. This week we updated the search result format for financial results on iPhone and Android-powered devices. You can now interact with the results in new ways to see a company's performance over various date ranges, and if you swipe the screen from right to left you can see recent financial news for the company, glance at a market overview and check how the stocks in your portfolio are doing. If you currently have your language preference set to English, just go to google.com and search for a stock ticker symbol to see the new format.
Example searches: [TSLA] [F] [NFLX]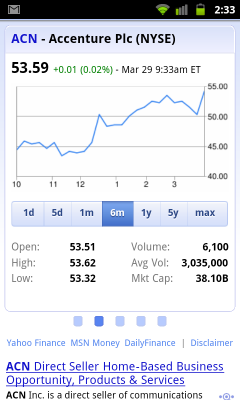 Google Iraq homepage in Arabic
Voice Search in new languages
This week we introduced Voice Search in Indonesian, Malaysian and Latin American Spanish. With the help of local people in the region, we were able to capture regional accents and conversational speech to more accurately resemble everyday use of the languages. We also made sure to pay attention to languages with different accents, so we could build a version of Voice Search that, for example, could work across the whole of Latin America. With these new additions, Voice Search is now available in over two dozen languages and accents since it first launched in November 2008.
We're hiring Autocompleters!
On the search team, we're always looking for new talent. Today, we're making a big push to expand hiring for Autocompleters. If you happen to be in the market for a new job and have psychic tendencies, we encourage you to consider applying. Watch this video to hear from a real Google Autocompleter.
Mike Cassidy, Director of Product Management
googleblog.blogspot.com
published @ April 2, 2011